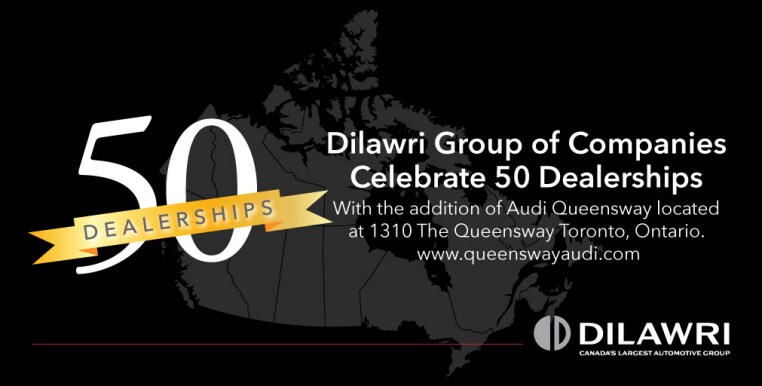 TORONTO, ON - The Dilawri Group of Companies today announced the acquisition of Audi Queensway located in Toronto, Ontario. With the addition of Audi Queensway, the company now encompasses 50 franchised dealerships, strengthening its position as the largest automotive group in the country.
"We are proud to welcome Audi Queensway to our company," said Kap Dilawri, who along with his brothers Tony and Ajay, are principal directors of the company. "This is our third Audi dealership in Canada, so we know that the Audi brand is synonymous with high quality, reliable, luxury vehicles."
Construction of an all new state-of-the-art facility incorporating Audi's terminal design concept is already scheduled for early 2015. The new facility will highlight Audi Queensway's commitment to excellence and provide the exceptional customer service experience that underscores the Dilawri Group of Companies.
According to Doug Ramsay, General Manager of Audi Queensway, becoming part of the Dilawri Group of Companies will benefit everyone from customers to staff. "Leveraging Dilawri's established structure, processes and customer service orientation will help take Audi Queensway to the next level of sales, service and performance," he said. "We are all extremely pleased."
Audi Queensway and Dilawri share a belief in continuous improvement in products, value and services, employee development, and community commitment. "This is a great fit for us," explains Dilawri. "Audi Queensway is an important addition to our Group."
ABOUT AUDI QUEENSWAY

Established in 1958, Audi Queensway has grown to become the premier Audi dealership in the Greater Toronto Area. At Audi Queensway we look forward to service you, our valued customer, for years to come. Please stop by our dealership, located at 1310 The Queensway, Toronto, ON or visit www.queenswayaudi.com .
Date Posted: December 2, 2014